MBID Sends New Grads Off to Shape the Future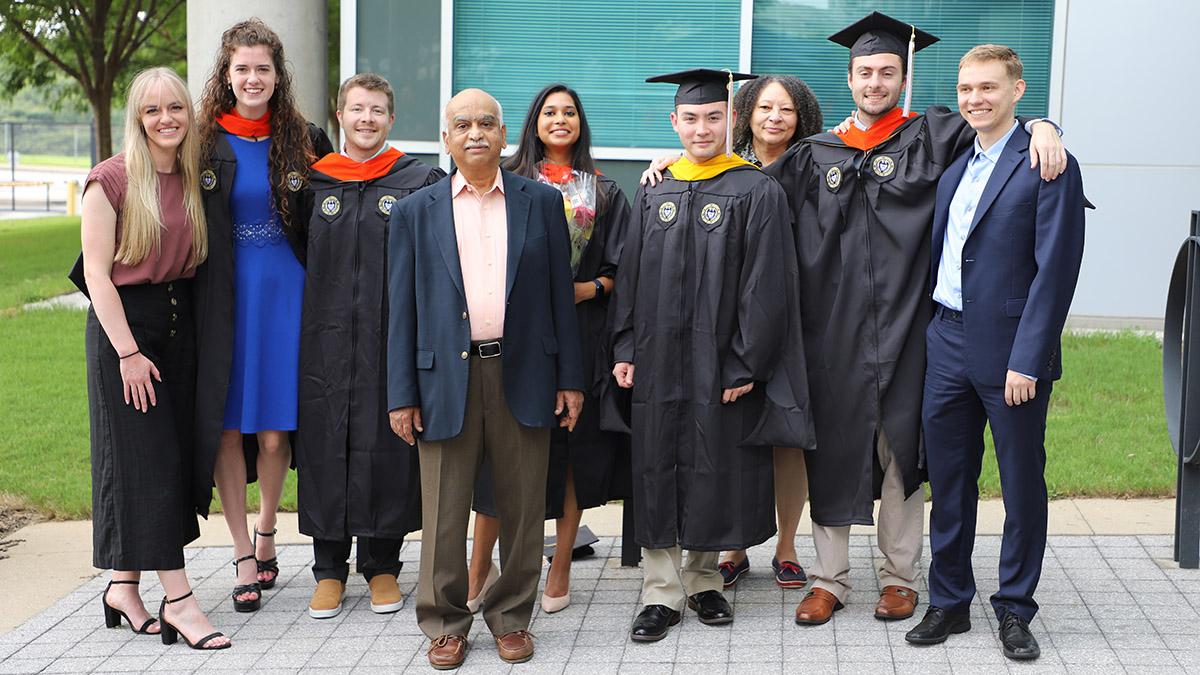 Program director Sathya Gourisankar poses with some of the newest graduates of the Master of Biomedical Innovation and Development program. The 2020-21 class of 26 students brings the total number of graduates in the program to more than 200 in its eight years. Students presented their final projects this week. (Photo: Joshua Stewart)
This week was a landmark moment in the eight-year-old Master of Biomedical Innovation and Development program: more than 200 students now have earned the MBID degree.
The milestone comes as the one-year master's program in the Wallace H. Coulter Department of Biomedical Engineering graduated another 26 students this week, celebrating the end of its most challenging academic year yet.
The students delivered their final group project presentations during a virtual event Aug. 2 and celebrated with their families Aug. 3. The presentations are the final requirement for the degree, and they're no easy task with about three dozen faculty members,  industry leaders, entrepreneurs, and clinicians tuned in.
As MBID Program Director Sathya Gourisankar noted in his opening statements, this year's cohort operated under pandemic constraints, "which called for tremendous adaptability from all involved — students and faculty."
"You did this in extraordinary times," said Raheem Beyah, dean of Georgia Tech's College of Engineering and Southern Company Chair. "I can't think of a time when medicine and technology have been so important to the world. Your future will help shape the future of this pandemic and other health challenges in the years and decades to come."
He added: "Innovation and commercialization are incredibly important to me and to Georgia Tech. They're among the main reasons this program was created — we wanted to address a gap in biomedical education."
Students form teams early in the program. Through clinical observations of procedures and discussions with stakeholders, they identify an unmet clinical need. Then they set about developing a medical device to address the problem in a holistic manner, with clinical and business impact in mind. Essentially, they build a bench-to-bedside commercialization pathway for medical device companies from the ground up.
Along the way, students are exposed to and become experienced in all of the elements involved in starting such an enterprise, from researching market viability — including a patent search — of their proposed device, to pitching their product, raising capital, meeting regulatory requirements, developing strategies for reimbursement monetization, and so on.
"It's a real-world focus with real-world exposure," said Gourisankar, who designed the program's curriculum and assembled a faculty team that includes industry leaders, entrepreneurs, clinicians, business school professors, and others who have been there or done that or both — just like Gourisankar, who has more than 30 years' of experience in medical device development.
"From the start, we've identified the industry hiring manager as our key customer," he said. "We want to provide them with candidates who are well rounded in the various aspects of the medical device industry, which doesn't like to spend too much time training people. They want quick starters who can hit the ground running."
This year's graduating class is typical of previous years in that all of the students are already engaged in successful careers or have jobs waiting for them. They're moving into careers in research and development, quality control, regulatory affairs, clinical work, manufacturing, project management, and marketing, among other areas.
"Going through the MBID program has strengthened my passion for medical devices and improving the quality of patients' lives," said Anuradha Nagulapati, a 2021 graduate who will begin a new role as a regulatory affairs engineer at medical device company MiRus in a few weeks. "I will be wearing multiple hats and will also get the chance to gain experience working with other departments."
And if her career follows the kind of arc Gourisankar envisions for all of his graduates, she'll be on a slightly expanded path: "Leadership," he said. "I'll give this cohort the same challenge I give every cohort. Develop your skills, build your resume for five years, and at the end of that time, I expect you to be on the way to a leadership role. I look at every one of these graduates as future leaders of the device industry."
During their final presentations, students gave streamlined versions of the kind of pitch a start-up would give a group of investors: identifying the problem and describing their solution, the path to market, manufacturing costs, plus the clinical, technological, and financial value. Then they received feedback from their clinical advisors and industry experts.
Learn more about the 2021 MBID projects:
EmergenSix
Students: John Richardson, Andrew Payton, Daria Tereneva, Keya Patel, Malvika Upadhyaya, Zak Kaminsky. Clinical Advisor: Lekshmi Kumar, M.D., MPH
Problem: Every year, emergency medical services respond to about 5 million patients who require immobilization of the cervical spine. The current gold standard fails to do the job effectively and can even exacerbate the trauma.
Solution: A safer, more effective way to immobilize the cervical spine in blunt force trauma. The NovaSpine device is an affordable, slim, foldable unit that slides quickly and easily under the patient's head and neck and conforms to a patient's unique anatomy, reducing instability.
Heart Throbs
Students: Adrianna Carter, Jaxon Sommers, Jared Fox, Nabeel Abusharkh, Andrew Ten Eyck, Megha KulKarni, Ingrid Cubillos. Clinical Advisor: Gautam Kumar, M.D.
Problem: Currently, there are no devices that can help monitor blood flow and boost circulation to lessen recurring pulmonary embolisms and prevent blood clots in the lungs.  
Solution: A wearable device that patients can take home to enhance recovery after a pulmonary embolism. The device provides electric muscle stimulation and senses blood flow. Designed to be worn on the leg, the device delivers nerve or muscle stimulation to increase and stabilize blood circulation.
Upnea
Students: Reagan Newman, Adam Paley, Suraj Vuduta, Sahil Kemkar, Alvaro Benitez, Sara Zulfiqar. Clinical Advisor: Adam Klein, M.D.
Problem: About 12 percent of U.S. adults have sleep apnea, and the number is likely higher. Women, specifically, are a critically underdiagnosed population whose daytime symptoms, like fatigue and sleepiness, deserve investigation. The team is seeking a way to reduce underdiagnosis.
Solution: An ergonomic, wearable device — the Wireless ST — that collects daytime data, which current sleep tests don't do. The device provides isolated, selected physiologic signals to help clinicians capture a patient's state of wakefulness, which is when the hallmark symptom of sleep apnea actually shows up.
UroTech
Students: Milosz Bis, Tyler Bryson, Stanley Koryta, Cristina Madalo, Bailey McLain, Anuradha Nagulapati, Cody Schoenfuss. Clinical Advisors: Spencer Kozinn, M.D.; Raymond Pak, M.D., MBA; Jaime Wong, M.D., MBA
Problem: About 2.5 million hospital patients suffer from pressure injuries in the U.S. each year, leading to 60,000 deaths. The sacral region is the most prominent location for these injuries. Given the ever-heightening U.S. nursing shortage, consistent manual repositioning is less feasible and harder to achieve.
Solution: A device to improve preventative techniques. The team is developing a working wearable prototype that continuously monitors pressure and moisture of the sacral region in patients, sending an alert to healthcare professionals when pressure and moisture are present at harmful levels.