Redesigned NG Tube for Premature Babies Wins Top BME Prize at Spring Capstone Expo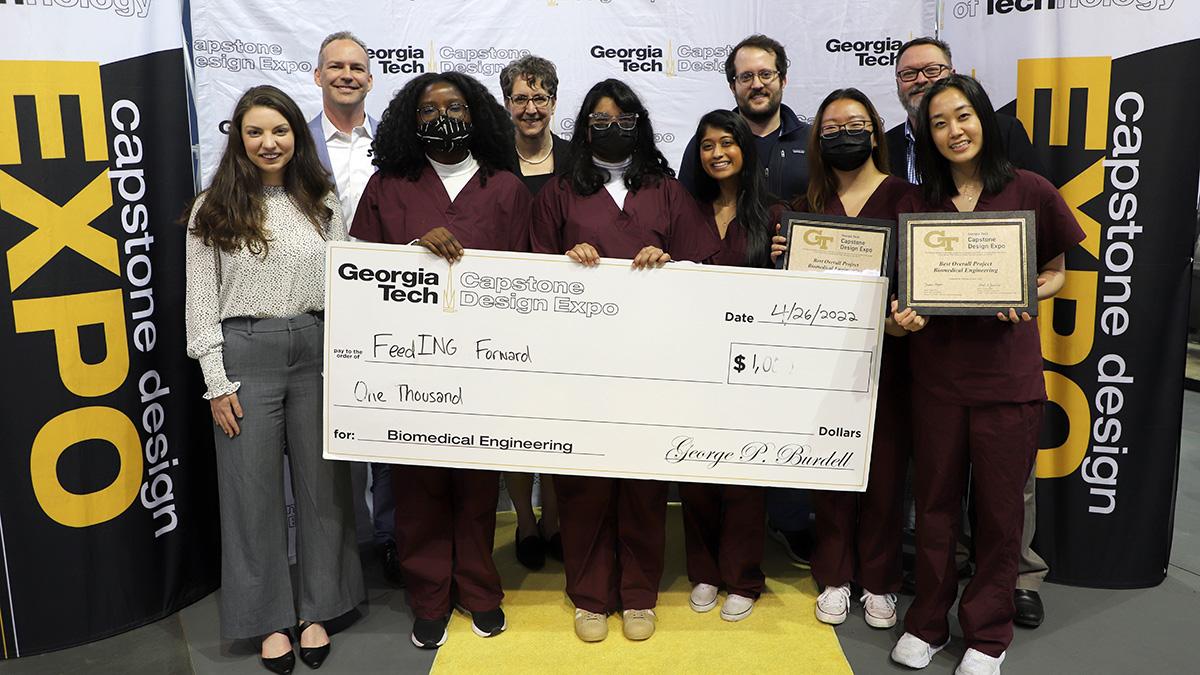 Team FeediNG Forward won the Best Overall Project in biomedical engineering at the Spring 2022 Capstone Design Expo April 26. Their project developed an improved nasogastric tube for premature infants that protects against displacement after insertion and verifies proper initial placement without the need for X rays. The team included Alima Ballo, Esha Kashyap, Eunice Kim, Janet Kim, and Meghana Sridhar. (Photo: Joshua Stewart)
Getting a premature baby the nutrition she needs isn't always easy.
For example, about 120,000 pre-term babies in the U.S. require a nasogastric tube, or NGT, to take in food and medicine. And while these tubes can be lifesavers, they also can present a couple of significant problems: misplacement, when the tube is accidentally inserted in the small intestines or the lungs, and displacement, when the insertion was correct but the tube later moves up into the esophagus or down into the small intestine — usually due a cough or other bodily function.
The standard way of verifying an NGT is in the right place and doing what it's supposed to do requires an X ray, but that exposes a very young baby to potentially harmful radiation.
"All of those things increase the probability of injury or harm to a defenseless population, so we're working to minimize the risks," said Eunice Kim, a member of FeediNG Forward, a team of five women who presented their design of a better NGT at the Spring 2022 Capstone Design Expo April 26. Kim and her teammates won the Best Overall Project among teams from the Wallace H. Coulter Department of Biomedical Engineering at the expo along with a $1,000 prize.
They were among 32 groups of biomedical engineering students at the expo that BME Capstone Director James Rains called "the best performing set of teams we've ever had." All told, biomedical engineering students made up roughly 15% of the 218 teams from across Georgia Tech who showed off their senior design projects to judges and hundreds of community members, family, and friends. The spring expo marked a returned to its pre-Covid format, with teams setting up their booths along the McCamish Pavilion concourse, on the basketball court, and outside under a large tent for a full, in-person audience.
As Rains indicated, the competition within Coulter BME was fierce, with teams tackling a broad range of problems, from a totally new way for doctors to examine a patient's mouth and throat to a device to secure the tubing for a tracheostomy and prevent damage to skin around the inserted tube.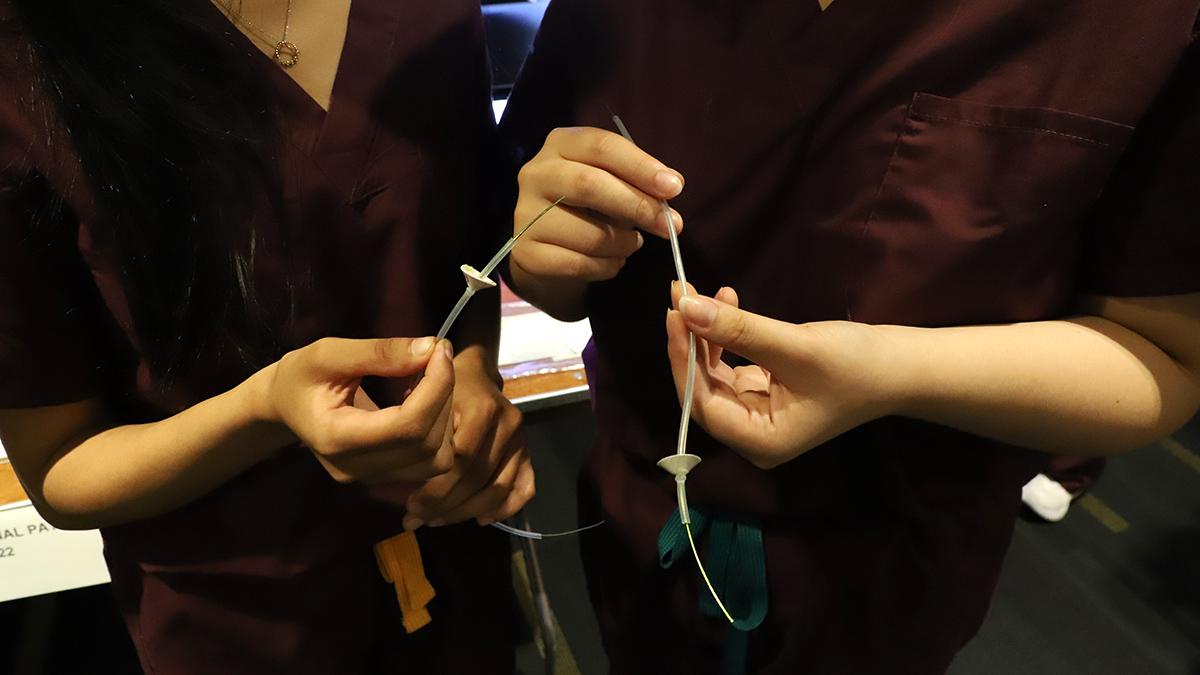 This prototype feeding tube for premature babies includes two innovations to address two key problems. To ensure proper initial placement without the use of X rays, the tube includes a guidewire coated with a cellulose compound that dissolves in the stomach's gastric acid. After insertion, the guidewire is removed to verify it dissolved. The tube also is fitted with an invertible cone that prevents displacement of the tube after insertion. (Photo: Joshua Stewart)
The winning FeediNG Forward team — Kim, Alima Ballo, Esha Kashyap, Janet Kim, and Megs Sridhar — designed their VeriFeed device based on an idea from their sponsor, Dr. Michael Vavuranakis, internal medicine resident in the Emory University School of Medicine. 
They addressed the misplacement/displacement problems with two major design modifications to the standard NGT design. They added an invertible cone that holds the tube in place at the junction of the esophagus and the stomach and an accessory wire coated with a polymer that dissolves when it contacts gastric acid — an indication that the correct target has been reached. 
Dissolution of the polymer can be observed — in seconds — by removing the wire. Their modifications eliminate the need for radiation from X rays, minimize the time and cost of the procedure, and reduce the probability of other risks.
"Both the safety mechanism that secures the tube and the wire are amazing solutions," Vavuranakis said. "These students took the project to another level."
The NGT was one of several Coulter BME projects focused on pre-term babies, including one from a team called NICU Super hEARos that aims to protect infants from the potentially harmful effects of too much noise. A hospital's NICU is typically the safest place for at-risk babies, but it is also a noisy place as life-sustaining equipment like ventilators, oscillators, and alarms provide a steady soundtrack of high frequency pings.
These sounds can damage the babies' developing auditory systems, increasing the risk of hearing, language processing, speech, and cognitive disorders. The current solution relies on adhesives, which can damage a neonate's skin, and a one-size-fits-most approach, which doesn't always work on smaller preemies.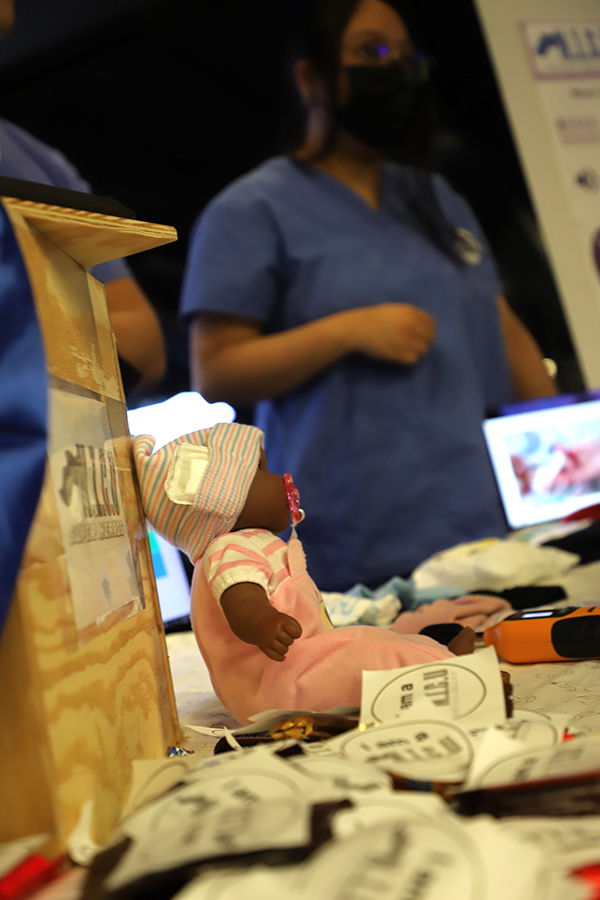 A doll demonstrates Team Super hEARos' dual-layer gel inserts to protect the hearing of premature babies in the neonatal intensive care unit. The pads tuck into the band of the hats that infants already wear in the hospital to keep warm and cover their sensitive ears. Initial testing showed the inserts reduced sound levels by roughly 30 to 55 decibels. Team members included Justin Blaylock, Amulya Elamanchili, Matthew Ha, Rachel Ribner, and Alyssa Tran. (Photo: Joshua Stewart)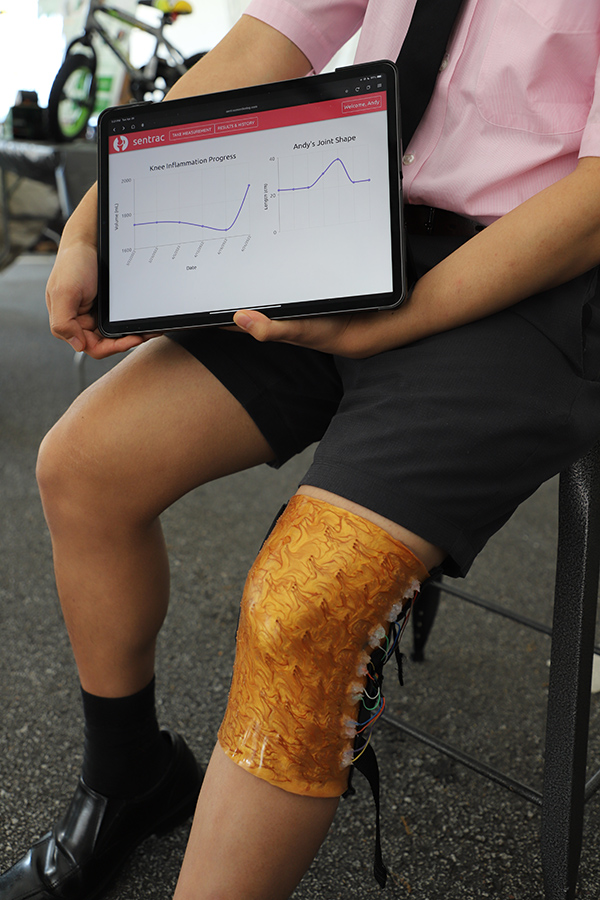 This knee wrap tracks knee joint inflammation and joint shape for arthritis patients, helping their doctors more easily and accurately track the progress of treatment and joint deterioration. The flexible device uses silicone tubes of an electrically conductive metal alloy called Galinstan that is liquid at room temperature. Team members included Andrew Chyong, Emily Klaeser, Hyungjun Park, Zachary Shah, and Yukina Yajima. (Photo: Joshua Stewart)
"Our product addresses these problems by using an elastic headpiece and removable gel inserts that conform to the baby's ear, removing the risks of things like skin irritation and pressure sores," said the Super hEARos' Matthew Ha. "Using this novel method of noise attenuation, our gel inserts allow for maximum comfort as well as quick and easy application and removal."
The team also is looking into the potential of expanding the product into an adult market for people with sleeping sensitivity, or for ICUs and geriatric patients. 
Several other teams worked on projects geared toward an older clientele. One team designed a remote monitor for joint inflammation in arthritis, a problem that affects 40 million Americans. 
"Remote joint inflammation assessment is an emerging field that is largely untapped by the wearables industry," said Andrew Chyong of the MAD Scientists, who used liquid metal tensor sensors, a unique approach that involves filling silicone tubes with electrically conductive liquid metal. "Even minute changes in resistance as the sensors are stretched over the joint can be accurately determined. Combined with our app user interface, the doctor has a detailed look at the joint shape of the patient, without the need for an in-person visit."
Team HydroSense wants to make sure people are getting enough water. More than half a million Americans are hospitalized for dehydration every year and about three quarters of Americans may be chronically dehydrated, particularly the elderly. 
So, these students designed a device that measures the electrical impedance of the skin to detect changes in the skin's volume of extracellular water, according to team member Frank Pittman. Their initial idea is to support athletes during training, but the device could prove useful for military personnel, construction workers, and others.
"Our goal is to make it small enough for users to wear it 24/7 on their wrist so that hydration measurements can be taken every 15 minutes," Pittman said. "This way, users can keep track of how their hydration levels change throughout the day or throughout a workout."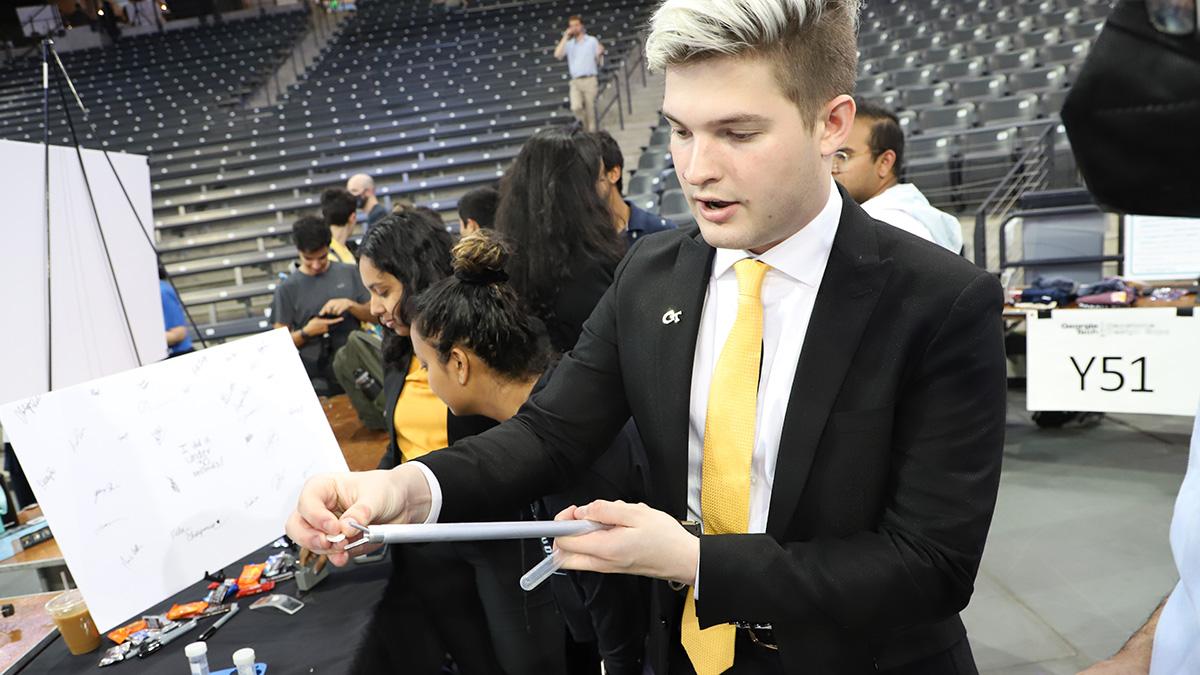 Christopher Vietas demonstrates the chondroLink device, which is designed to place a new kind of cartilage implant in the knee via arthroscopic surgery. The 2x-scale prototype device keeps the implant in saline until just before placement and uses a nondestructive clamp and sheath to gently fold and protect the implant during the procedure. Vietas' team also included Hill Belfi, Srujani Das, Sam Dasari, and Zahraw Shah. (Photo: Joshua Stewart)
The teams and their projects were as diverse as the problems they were trying to solve.
ChondroLink, sponsored by biotech firm Nanochon, developed a minimally invasive surgical tool for inserting the company's patented synthetic, 3D-printed implants to aid in knee cartilage repairs. 
A team called uCollect addressed urinary incontinence, an issue that affects six out of 10 women. They developed a safe, reusable, gravity-powered device, eliminating the risk of urinary tract infections and offering greater comfort and ease of use than existing treatment options.
Parks & Wrecks designed an affordable monitoring device for people with Parkinson's disease. The device is worn on the hand and wrist, and it collects data on three major symptoms: tremors, rigidity, and the slowness of movement called bradykinesia. The information is transmitted to a mobile app, which will display a concise summary of symptom progression as well as words of affirmation to encourage patients and promote compliance with doctor-directed therapy.
Compared to existing devices, the team's wRECkit is more user friendly and records a more detailed picture, empowering patients to be better informed about their own condition.
"We believe that everyone deserves the opportunity to be connected and involved with their health," said team member Chloé Thiveaud.
"Our students just continue to blow me away," Rains said after the expo. "It's like there's this kinetic energy about being back in person — they're so excited to be in the same room together, and it's showing in the quality and scope of their work."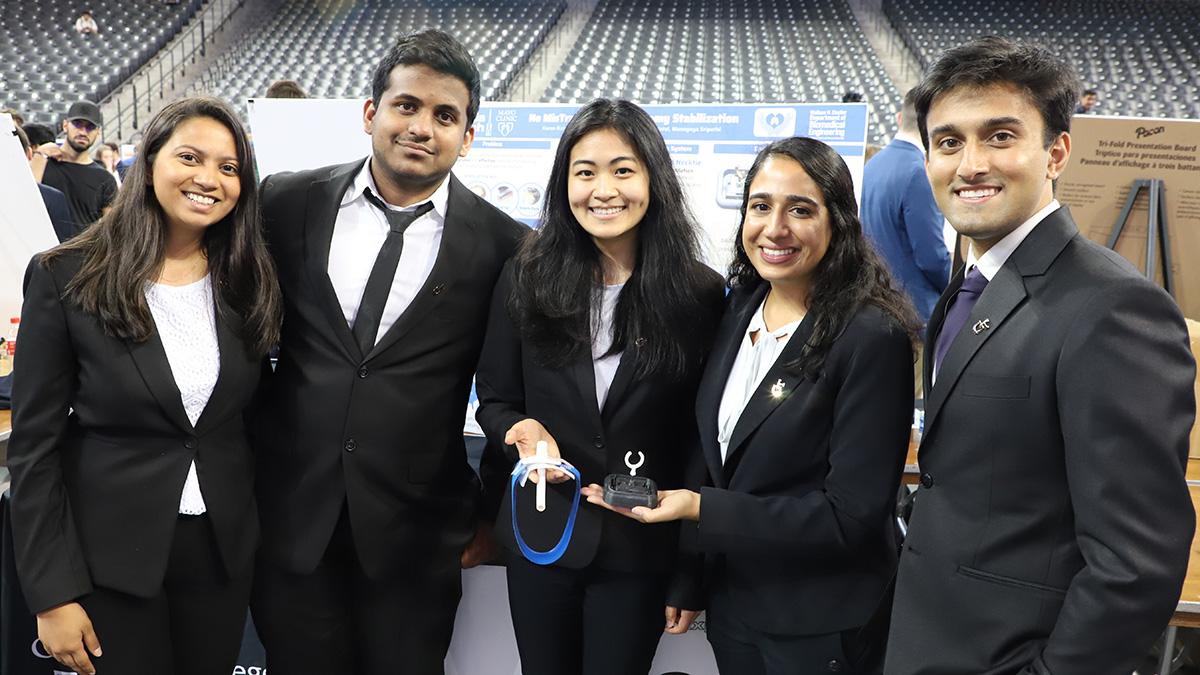 Team No MisTraches created a three-part system to improve outcomes for patients with a tracheostomy — an artificial airway created with a surgical incision in the trachea to allow for a breathing tube. The group built a stabilizing device to hold the tubing and reduce pulling that also collects data on how the tubing is moving. They also created silicone padding and a gel necktie to reduce pressure injuries at the incision and around the neck. The team included, from left, Manognya Sripathi, Karan Kaimal, Amy Liu, Ameera Patel, and Advay Mahajan. (Photo: Joshua Stewart)