Carotid Artery Closure Device Wins ACC InVenture Prize
Team carSEAL is finally bringing the ACC InVenture Prize trophy back to Georgia Tech. The group of five biomedical engineering undergraduates has won the sixth edition of the ACC InVenture Prize competition, beating out teams of student innovators from across the Atlantic Coast Conference.
As the first-place team, Shovan Bhatia, Joshua Cruz, Nicholas Lima, Derek Prusener, and Giancarlo Riccobono earned $15,000 to help them continue to develop and refine their carotid artery closure device, which could help doctors significantly cut the time for a critical clot-busting procedure for stroke patients.
Modeled on Georgia Tech's successful Shark Tank-style InVenture Prize, the event finals April 2 gathered the best undergraduate student entrepreneurs from the ACC's 15 schools at Florida State University in Tallahassee to show off their ideas. Though Georgia Tech teams have won the People's Choice Award in previous editions, this is the first time Yellow Jackets have claimed the top prize. It's also the latest in a series of triumphs for the carSEAL group, which won two Mayo Clinic prizes and the Best Overall Project accolades at Georgia Tech's fall Capstone Design Expo.
"Through each round of this process, we have seen incredible teams working on impactful projects, and it is exciting to be surrounded by such brilliant minds from numerous backgrounds," Bhatia said. "It has been especially rewarding working with so many supportive advisors from Georgia Tech, who have been through the startup process and have freely offered their expertise. Along each step of this process, we have learned something new to refine our pitch and ensure we are presenting our most competitive self."
The carSEAL device started as a senior design project sponsored by Mayo Clinic in Fall 2021. The idea is to help significantly reduce the time it takes to perform a lifesaving thrombectomy after a stroke — a procedure where a catheter is inserted through the femoral artery in the leg and snakes its way through the blood vessels to remove a clot, usually in the cerebral arteries.
"It's generally a successful procedure, but it can take about an hour to go from your leg up to your brain, and when you've had a stroke, time is everything; you can lose hundreds of millions of neurons in an hour," Cruz explained at the Expo in December.
Surgeons have demonstrated that inserting a catheter through the carotid artery can cut the procedure time in half, but there aren't any approved devices to seal the artery afterward.
"The great thing about this device is, it not only closes the carotid artery — one of the most difficult blood vessels to close — but it'll close any other blood vessel, which makes it an extremely competitive product," Cruz said. "We designed ours for neurosurgeons, but we think it'll have applications for interventional cardiologists, radiologists, and others."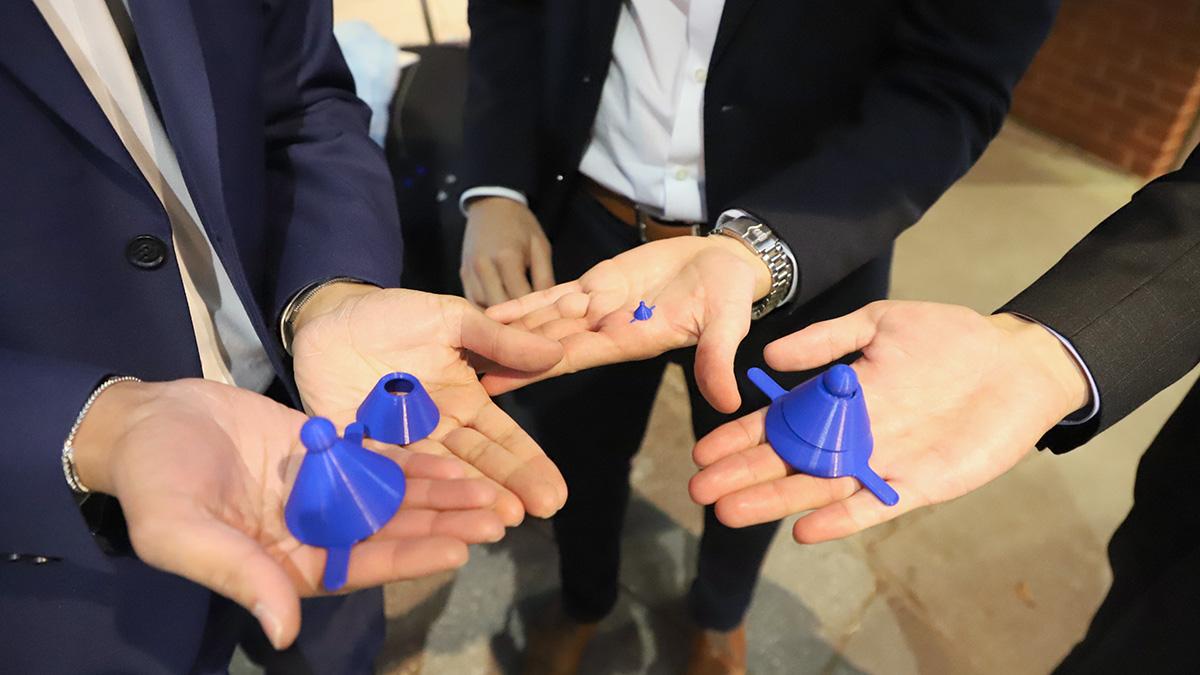 Members of Team carSEAL hold scaled-up versions of their device at the Fall 2021 Capstone Design Expo. The device is designed to close the carotid artery after a clot-removing catheterization for stroke patients. Typically, surgeons feed a catheter from the femoral artery in the leg all the way to the location of the clot cutting off blood flow to the brain. Entering in the carotid instead can cut the procedure time in half and save millions of neurons that would otherwise die from lack of oxygen. But there's currently no reliable and proven way to quickly seal the artery after the procedure. (Photo: Joshua Stewart)
The team has produced a model that has been promising, and their Mayo Clinic sponsors are so enthusiastic, that carSEAL has continued to refine the device and figure out how to move it toward the pre-clinical studies necessary for U.S. Food and Drug Administration evaluation. They've been working with students in Coulter BME's Cardiovascular Fluid Mechanics Lab to test carSEAL's effectiveness and scaling down their proof-of-concept model to the actual size for arteries.
"I am extremely proud of our team's achievements in the short six months that we have worked together," Bhatia said. "CarSEAL has gained a lot of traction already, and we are excited to see how far we can take this — hopefully bringing carSEAL to clinical practice within a few years."
Frida Carrera in the Georgia Tech Student Innovation Program contributed to this story.