Biomedical Student One of Six Recipients of GT Award For Biomaterials Research
Nettie Brown, a 6th year graduate student in the Wallace H. Coulter Department of Biomedical Engineering jointly mentored by Dr. Scott Hollister and Dr. Johnna Temenoff, is one of six recipients of the GT NEXT award from the Georgia Tech Office of Technology Licensing. 
The award, which was established in Spring 2023, was created as a means to foster the development of innovative research ideas proposed by graduate students and postdocs and highlight their commitments to research and development on technologies that contribute to the betterment of society. 
Each award provides $5K directly to the recipient, which is intended to support the costs of research and development, such as materials, supplies, and instrument-use fees, as well as customer discovery.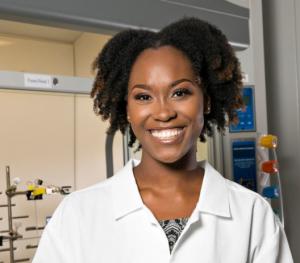 Nettie's dissertation research centers around the utilization of biocompatible materials and the delivery of cartilage materials to promote facial cartilage regeneration, especially for ear and nose reconstruction applications. In children, ear reconstruction is often performed to rebuild damaged ears caused by congenital defects, whereas in adults, reconstruction is most often performed because of damages to the ear caused by trauma or skin cancers.
In the operating room, ear reconstruction typically entails harvesting cartilage from the ribs and delicately molding the cartilage into the shape of an ear. These are laborious procedures whose outcomes are dependent on the skills of the plastic surgeons or the otolaryngologists specializing in otoplasty who perform the ear reconstructions. 
Instead, Nettie utilizes selective laser sintering (SLS) to 3D-print scaffolds that are based on biocompatible materials, such as polycaprolactone (PCL), to generate implantable scaffolds of the ear. This is a technique that the Hollister lab has extensively utilized for developing patient-specific medical devices and implants.
PCL been approved by the FDA for use in medical devices and implants because it is highly biocompatible and has an excellent safety profile, and its ability to slowly resorb makes it advantageous for promoting cartilage regeneration.
After mixing minced cartilage pieces and/or cartilage cells (chondrocytes) with novel poly (ethylene glycol) (PEGDA)-based heparin hydrogels developed by the Temenoff lab, the mixture can be added to the molds to create prosthetic ears that can then be surgically attached to the patient. 
Nettie plans to use the $5K award for materials and supplies to analyze and compare the efficacies of various cartilage subsets in combination with the PEGDA-based heparin hydrogels to promote cartilage regeneration.
Following her Ph.D. defense, Nettie plans to pursue a postdoc in the Hollister lab to conduct research on the utilization of composite scaffolds with cartilage encapsulated hydrogels for nasal grafts.