As a leader in biomedical engineering, we are preparing our students to be the next generation of research leaders. We offer many opportunities for companies large and small to engage and become familiar with our student and alumni talent. 
Engage with 
Biomedical Engineering

 (BME) Students
Hire our graduates - Attend our annual Biotechnology Career Fair in September
Offer internships and co-ops - Recruit top BME students
Sponsor a Capstone Design team - Mentor a small team of students and solve a real clinical need
Identify a health-care challenge - Submit a project proposal
Info Sessions - Speak with students about company opportunities
Lunch with Industry - Round table discussions with students about career paths, competitive edge, topics of interest to the students
Speaking opportunities - BME students benefit hearing from you
Day in the Lobby - Speak with students as they come and go from class, one-on-one or small group interactions
Sponsor special events or awards - Raise company name recognition by sponsoring events such as the Biotechnology Career Fair, student competitions, student group meetings, outstanding student awards
Host a company visit - Provide tours of your facilities
Subscribe to our Newsletter - Sign up here
For more information, contact Brenda Morris, brenda.morris@bme.gatech.edu.
Additional ways to engage at Georgia Tech:
Graduates of the Georgia Tech Biomedical Engineering program follow career choices as diverse as regulatory agencies like the FDA, medicine, dentistry, public health, hospital administration, healthcare IT, healthcare consulting, medical field engineers, device design, patent law, technology start-ups, entrepreneurship, designing shoes for Nike, and public service through Teach for America. There are many ways to get involved.
BME Stats
BME Student Skills
BME students exhibit:
Comfort with complexity and incomplete information

Communication and team work

Research and analytical skills

Design & entrepreneurial skills and spirit
BME Undergraduate Curriculum
131 hours total

78 hours of required engineering and science courses

26 hours of general education courses

12 hours of depth electives

15 hours of breadth electives
BME Specific Engineering & Science Courses
Engineering

Conservation Principles in Biomedical Engineering I
Introduction to Biomechanics
Introduction to Bioengineering Statistics
Biotransport
Biomedical Systems and Modeling
Circuits and Electronics
BME Application

Problems in Biomedical Engineering
Intro to BME Design
Physiology
Labs

Quantitative Engineering Physiology Laboratory I
Quantitative Engineering Physiology Laboratory II
Instrumentation and Electronics Laboratory
BME Depth & Breadth Electives
Depth/Technical Electives (12 Hours)

Students may use these electives to probe more deeply into multiple sub-disciplines, or choose to concentrate all courses within the same sub-discipline. Possible concentrations include:
 

Introduction to Bioengineering Statistics
Breadth Electives (15 Hours)

Students choose one of four breadth elective areas including:
 

Pre-Health
Research Option
Minor
Certificate
Master's Graduate Program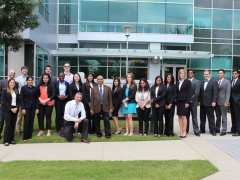 The Georgia Tech Master of Biomedical Innovation and Development (MBID) offers current and aspiring biomedical technology professionals two outstanding career-building components in one tightly focused program: