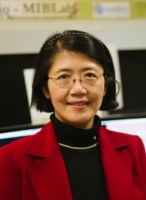 May Dongmei Wang
Professor
Kavli Fellow
Georgia Research Alliance Distinguished Cancer Scholar
UAW 4106
404.385.2954
Research Interests:
To advance and to accelerate the translation of biomedical discovery, development, and delivery through comprehensive biomedical and health informatics (a.k.a. biomedical big data analytics) for personalized and predictive health care.
Director of Biocomputing and Bioinformatics Core in Emory-Georgia Tech Cancer Nanotechnology Center, and Co-Director of Georgia Tech Center for Bio-Imaging Mass Spectrometry, 3+ Years of Industrial R&D.
Integrated Biomedical Big Data Analytics and Dynamic Systems Modeling for Prediction (e.g. Molecular Pathway, Cellular System, and Whole Body Physiological  System, Healthcare Systems Dynamics Modeling).
Comprehensive Biomedical and Health Informatics (e.g. Translational Bioinformatics, Microscopic Imaging Informatics, Mobile Health Informatics) for Personalized Health and ​Clinical Decision Support.
Bio-Nanoinformatics.
Telemedicine.