The Coulter Department offers multiple undergraduate and graduate degree programs which are described below. The undergraduate and master's programs are administered by Georgia Tech. Students gain admission to these programs through Georgia Tech, attend classes at Georgia Tech, and are awarded their degrees from Georgia Tech.
Students in the Georgia Tech / Emory BME Ph.D. program gain admission through Georgia Tech, attend classes at both Georgia Tech and Emory University, and receive their degrees from both universities. Students in the Georgia Tech / Emory / PKU BME Ph.D. program gain admission through either Georgia Tech or Peking University, attend classes and receive their degrees from all three universities.
All Coulter Department students, regardless of the degree they are pursuing, have the opportunity to take classes or conduct research at any of the three partner universities.
Undergraduate Degrees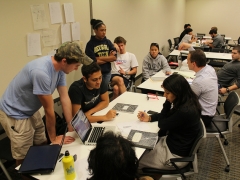 Georgia Tech Bachelor of Science in BME

The true integration of the life sciences and engineering is essential in educating a substantial percentage of the next generation of biomedical engineers in order to benefit from the biological revolution and its applications to medicine. This degree program attracts outstanding students who wish to have that integration in their undergraduate education, so that they may be equipped with the tools to be the leaders in this field in the 21st Century.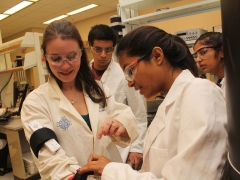 Georgia Tech Minor in BME

This minor requires the successful completion of at least 15 credit hours of coursework selected from lists of approved biomedical engineering and bioscience courses. The goal of the minor program is to educate students in how to apply engineering fundamentals to solve problems in biology and medicine. The program should be of particular interest to those students who plan to pursue advanced degrees in biomedical engineering and/or medicine.
Master's Graduate Program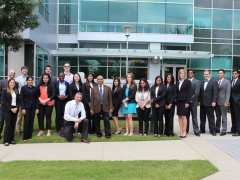 The Georgia Tech Master of Biomedical Innovation and Development (BioID) offers current and aspiring biomedical technology professionals two outstanding career-building components in one tightly focused program: