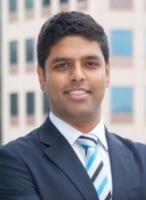 WMB, 101 Woodruff Circle, Suite 4127
Research Interests:
A major cause of death around the world is due to sepsis, recent reports by the WHO suggests that up to a fifth of all deaths were attribute to the syndrome. Sepsis is defined as a dysfunctional host response to infection, causing significant organ dysfunction that may result in death. However, there is still much not known about its etiology, manifestation, disease progression and resiliency. Our lab focuses on studying this highly dynamic and mysterious disease, developing artificial intelligence-based models to predict the onset of sepsis, and develop non-invasive devices to monitor the progression of the disease.

We focus on the development of novel machine learning and deep learning  develop real-time temporal reasoning and causal systems that ingest continuous data streams such as biosensors (electrocardiogram, photoplethysmogram, etc.), multi-omics (transcriptomics, metabolomics, microbiome, etc.). along with data from the electronic medical record to generate models that characterize early sepsis manifestation and improves understanding of sepsis biology. Our lab consists of basic scientists, computer scientists, clinicians, and engineers who are passionate about solving sepsis and making a broad impact at the intersection of these diverse and multidisciplinary topics.